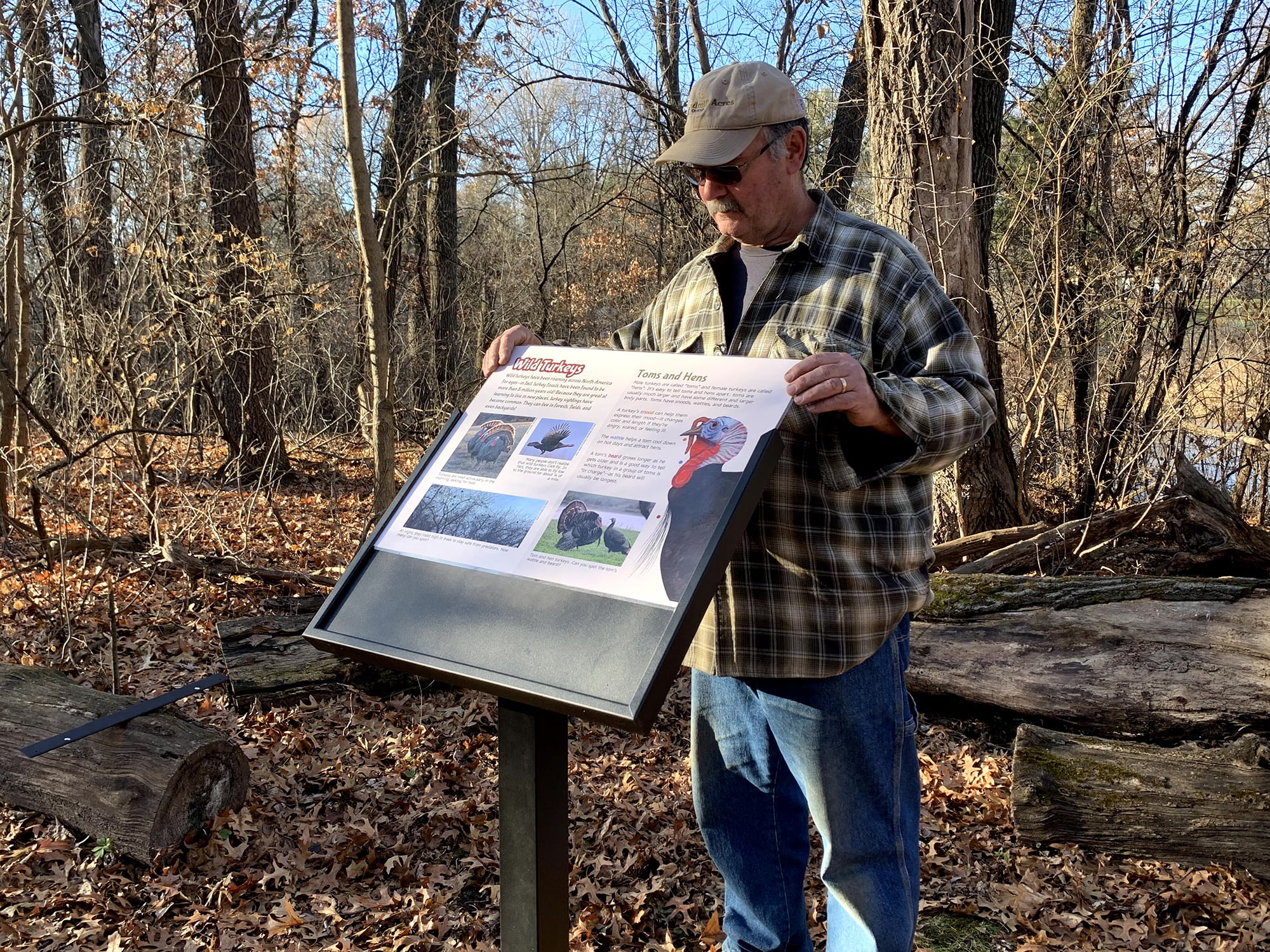 Vacker Sign offers all NatureWalk designs in two sign panel material options:  High Pressure Laminate and Tuff Panel.  Both of these sign panel materials are outdoor durable and vandal resistant.
Tuff Panel
TUFF Panel– Graphic marking film / protective over-laminate combination –
This economical panel is similar to the graphics you pass each and every day on signs, vehicles, and supermarket floors – an adhesive backed printed graphic marking film with a clear protective over-laminate. What sets it apart is the protective over-laminate. Developed specifically for demanding exterior applications (subways, bus stops, zoos, parks, etc.), it has twice the UV inhibitors than comparable protective overlaminates and tolerates a wide range of cleaning agents. Independent outdoor & QUA tests have proven 9+ years of UV protection in the Arizona desert. Thicker than comparable protective films, it offers good resistance to scratching and abrasions. When the adhesive backed graphic marking film / protective over-laminate combination is applied to polymetal (an aluminum / thermoplastic composite) the panel measures about 1/8″ thick, suitable for use with our aluminum frames.
High Pressure Laminate
Think outdoor durable kitchen counter top. HD printed papers are impregnated with melamine resins and consolidated at extreme high heat and pressure. The result is a durable, fade resistant panel with unlimited design potential. This panel type, (available in 1/8″ and 1/2″ thicknesses), is self-supporting at a thickness of 1/2″ and can be mounted with a frameless pedestal. Non-self-supporting 1/8″ thick panels should be supported with a frame. HPL panels are warranted to not delaminate, peel, blister, crack or fade for a 10 year period from the time of purchase, as noted in the Limited Warranty.
Understanding the Options
There are two styles to consider when selecting an angle mount exhibit: frame and frameless.  A frame exhibit provides full support for a 1/8″ thick non-self-supporting sign panel (1/8″ thick High Pressure Laminate or 1/8″ thick Tuff Panel).  A frame captures the perimeter of the panel on all four sides with the top rail being removable for the quick and easy insertion of the sign panel.  The frameless pedestal option consists of a 3/16″ thick mount plate that provides partial support for a 1/2" thick self-supporting High Pressure Laminate sign panel. The panel is secured to the mount plate with fasteners that pass through the backside of the plate into threaded holes on the back of the sign panel.  Because 1/2″ thick panels are considered self-supporting, they do not require full, edge to edge, support.  Only 1/2″ thick High Pressure Laminate sign panels can be mounted with a frameless pedestal.